"It's Simply a Matter of Taste"
Sassy Seasonings, Inc.- Offering Our Family's "Secret Recipe" Gourmet All-Purpose Seasoning Blends
Whether you are a casual cook, serious chef or grillmaster, Sassy products offer outstanding flavor and ease of use.
Naturally-fresh Herbs and Spices
~NO MSG~
~No Sweeteners~
~Gluten Free~
Use Sassy Products for:
Beef, Casseroles, Chowders, Dips, Eggs, Fish, Lamb, Marinades, Pasta, Popcorn, Pork, Poultry, Rice, Rubs, Salad Dressings, Sauces, Seafood, Soups, Stews, Vegetables and Vegetable Dishes, Virgin/Bloody Mary Mix, and Wild Game of Any Kind.
Baked, canned, cooked, fried, grilled, raw, roasted, sauteed or stewed….food just tastes better with Sassy!
"Make your taste buds happy – Be Sassified"
NEW AND IMPROVED CAP!
   Moisture is sealed out, preventing caking
   Product will remain fresh much longer
   Larger holes allow product to come out in one shake, rather than preventing larger grain spices or sea salt from separating out
   Measuring spoon flapper door easier for serious cooks
   Truly allows the customer to buy just one jar, and refills from then on, if desired
   White cap again blends with any décor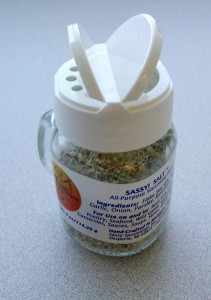 Visit the storefront to browse our other products.